and my "No mind" cooking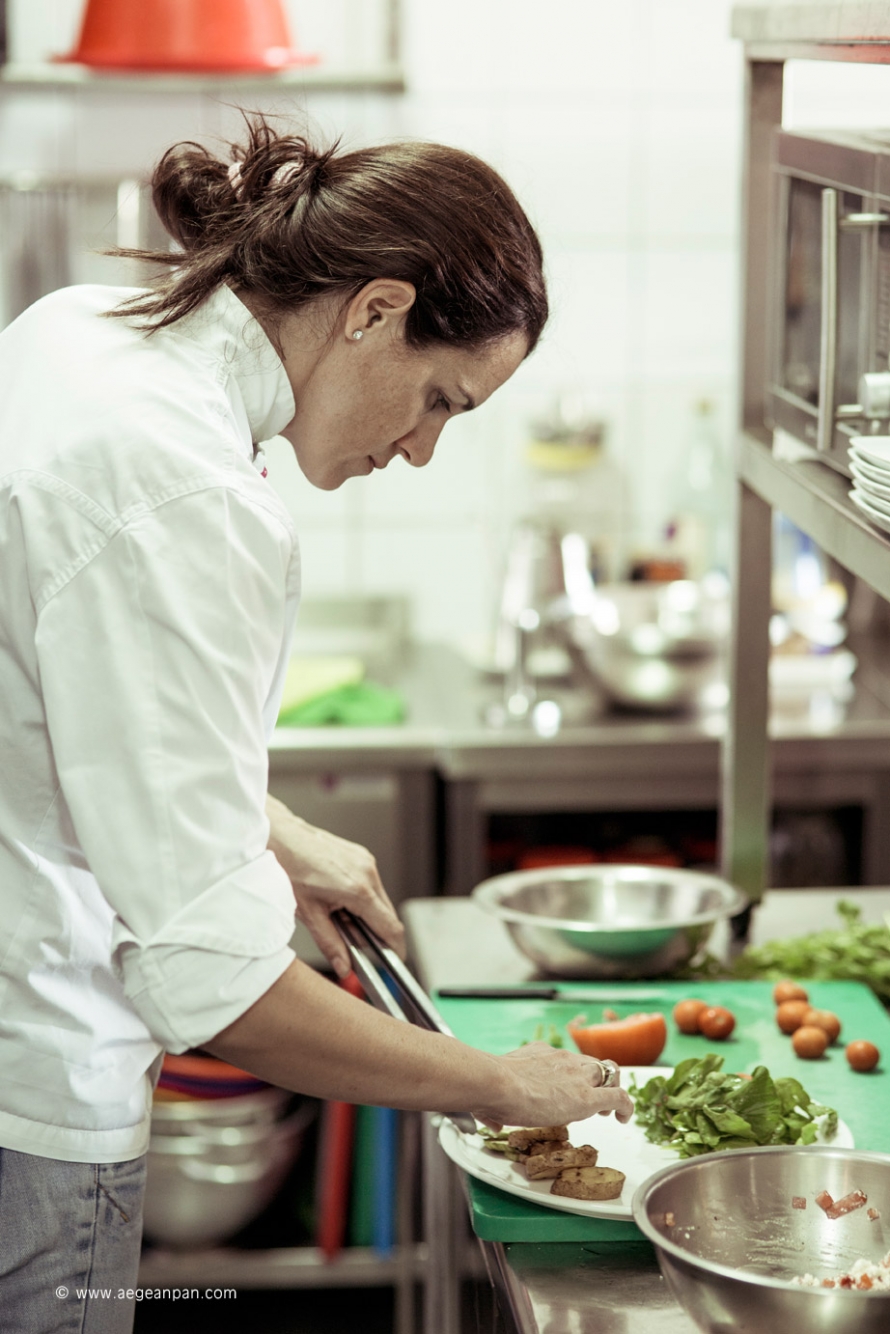 It's been a while since our last post; May is always such a busy month; I am in Athens, working, catching up with old friends, spending time with my family, searching for the perfect shoe, then working some more, trying to squeeze 48 hours into 24.
It's exciting and fun (especially the catching up with old friends-part), but I already miss the quietness and the colors of my island. I just realized, that when I' m there, even when I have a million things to do, I never feel disoriented. When I start to feel lost or tired, I gaze at the sea for a minute and everything's better; I mean, all this blue around not only defines us, but also helps us set priorities and clear our heads.
As I was observing these photographs of Christos, I felt impressed by the concentration of the woman cooking. She seems confident and peaceful; I remembered that cooking can become so zen sometimes… Moving inside the kitchen, stirring, chopping, moving again… it's a blissful choreography that absorbs all thoughts and worries. Do you ever do that? Cooking just for the fun of moving in a leisurely pace, like jogging?
Maybe it's the perfect thing to do, especially now that I am away from -all the blue- that I've grown accustomed to. Spend a relaxing weekend that includes shopping in the amazing fish market of Athens and cooking this delicious calamari recipe that Eudokia Despotidou, Chef of the Deli restaurant in Schinoussa island was kind enough to share with us…
It is a recipe based on the purity and freshness of the local products, as Eudokia Despotidou told us: this plate, as we tasted it at the balcony of the Deli restaurant, in front of a breathtaking view, is simply delicious… Juicy, full of the flavor and aromas of the Aegean Sea…
So, I will start with this recipe my "no mind" cooking activities for the weekend: since I am not at Eudokia' s wonderful Schinoussa restaurant, it's the next best thing, right ; )
Stuffed Calamari (squid): the recipe
by Eudokia Despotidou
Ingredients for 4 persons:
•  4 medium sized calamari, about 300 g each
•  200 g of feta cheese
•  200 g of xinomizithra cheese
•  2 fresh onions cut in small pieces
•  2 cloves of garlic cut in small pieces
•  1 roasted red pepper (florinis) cut in small pieces
•  1 tomato cut in small pieces
•  half a cup of olive oil
•  1 small lemon
•  salt & fresh oregano
Clean and cut calamari tentacles from tubes. Sprinkle them with olive oil and place them on greased grill. Cook, turning once, for 2 minutes or until firm.
For the stuffing: melt the feta and the xinomizithra using a fork, put them in a bowl and add the rest of the ingredients. Stir to combine well. Put the stuffing into the tubes and bake at 200 o C oven, for 15 minutes.
Serve the calamari with grilled vegetables and fresh salad, sprinkled with a mixture of olive oil and lemon.
Enjoy!
  photography by 
christos drazos
words by maria alipranti