The treat at the Monastery of Saint Theoktisti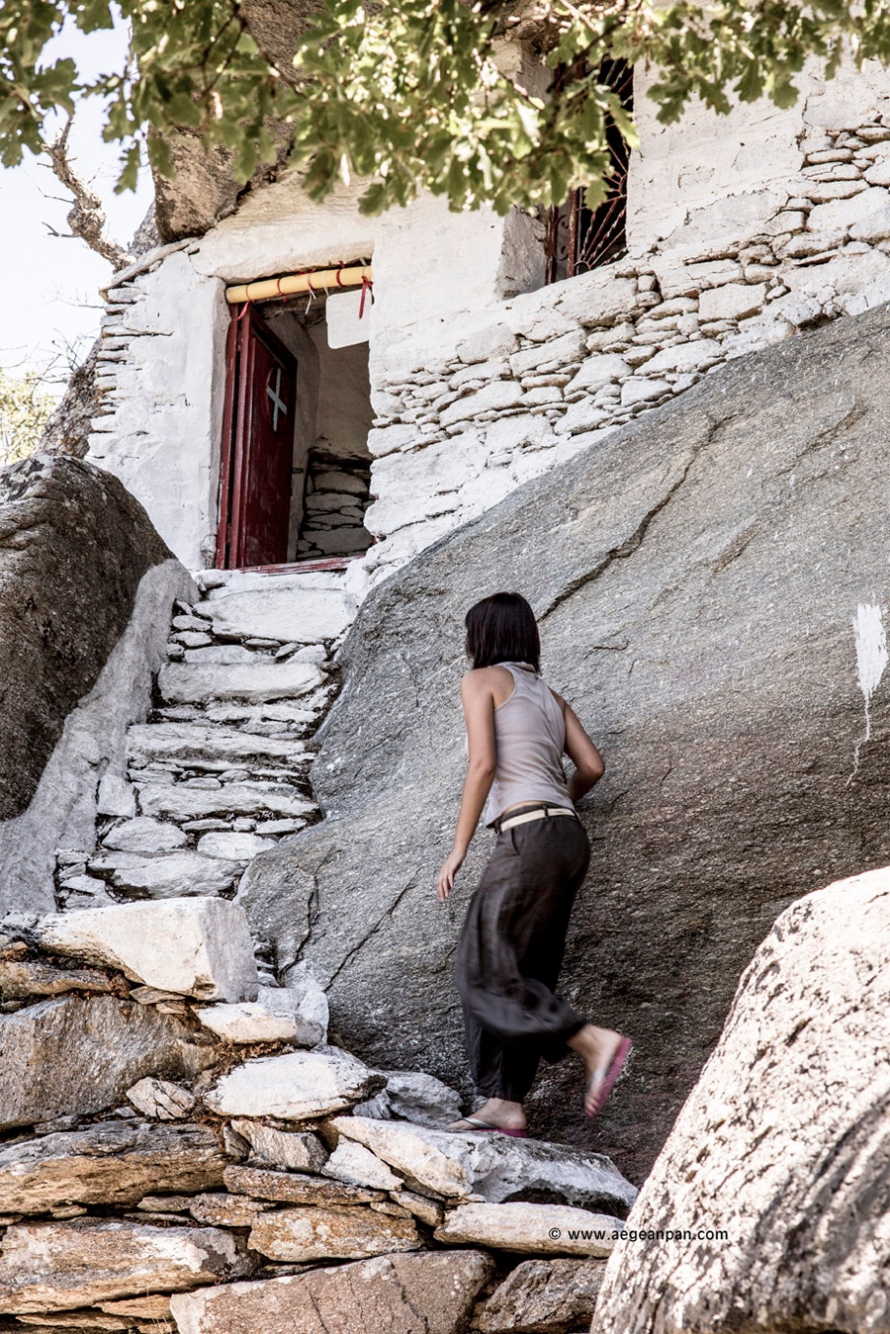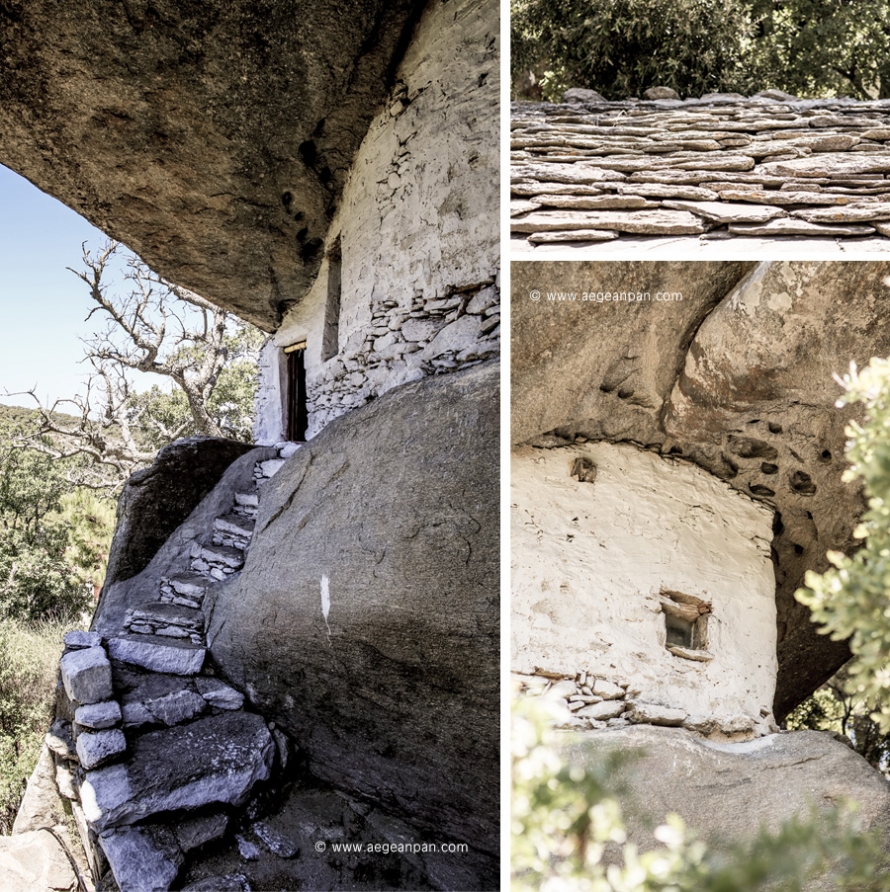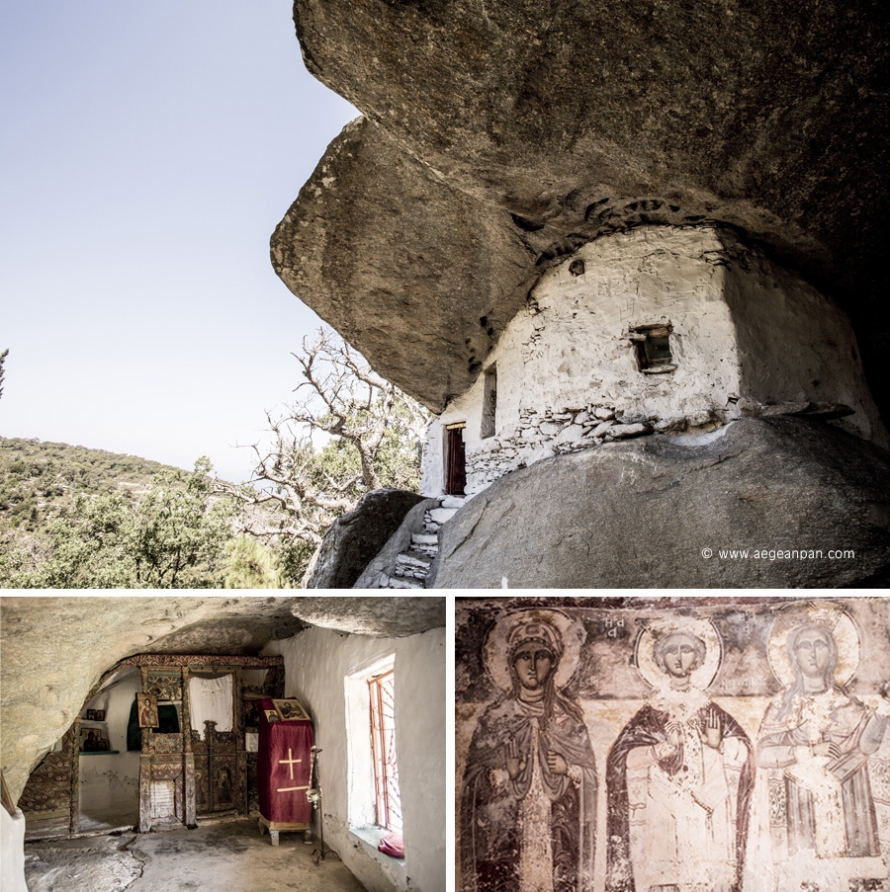 There is a place of peace and quiet in the north part of Ikaria; hidden by the trees and the gigantic rocks that create the unique Theoskepasti chapel and the old monk's cells, for more than five centuries this place used to be a Monastery, an observation post against pirate raids and a refuge.
From there, you can count the different shades of green that alternate, covering the mountainside as they go all the way down till they reach the sea. If you close the eyes, you start noticing the sounds of the lizards on the fallen leaves and the buzz of the bees that rest on the flowers outside the church that is decorated with old frescos.
Although time hasn't touched the Monastery and the wild beauty of the area, one feels most welcome there thanks to the hospitality of the local women that look after it. With a cool glass of water and a warm smile, Marina told us some of the old stories that I love so much listening to… Then, she asked if we would like to taste loukoumades me meli.
Big smile; Yes, of course we wanted to try the delicious round golden crisp puffs, covered with local thyme honey and sprinkled with cinnamon. This classic Greek dessert, easy and simple, always brings back many pleasant memories. We ate the tasteful loukoumades while they were still hot, in the Monastery' s shady yard that has welcomed so many people in the past. We shared a plate and we shared some stories, and time flew by; but we didn't seem to care anymore.
Loukoumades me meli  |  The recipe
This is a recipe by Mrs. Georgia Fysilani from Paros; her loukoumades are always light, airy and crispy. This dessert is easy to make, with ingredients that you may already have in the kitchen. Sweet, sticky, delicious: Enjoy!
For the batter:  1 kilo of flour / 1 envelope of dry yeast / a pinch of salt / a pinch of sugar / warm water / oil (for frying)
Topping: 1 cup of honey / ground cinnamon
•  Mix well the flour, yeast, salt and sugar. Add water, until you have a batter that is thick, soft and elastic.
•  Heat the oil in a deep pot. (Make a test to see if the oil is ready: drop a tablespoon of batter into the pan; it should rise to the top, taking a deep golden color). Spoon tablespoons of batter into the hot oil (from a low height to avoid splattering) and fry the loukoumades until they are evenly golden (around 4 minutes). Remove them from the pan with a slotted spoon and drain on absorbent paper.
•  Pour the honey into a saucepan and heat it, until it becomes runny. Drizzle it over the hot loukoumades and sprinkle with cinnamon.
words by maria alipranti
photography by christos drazos